The Lumitek EL Advantage
Electroluminescent lamps manufactured by Lumitek Corporation offer the following advantages:
EL lamps can backlight the most complicated aircraft and other instrument panels, displays (including LCD panels) and keypads.
EL lamps are flat and flexible.
Cool light sources; EL lamps produce virtually no heat.
Vide range of colors to meet specific color requirements.
EL lamps provide efficient, cost effective lighting due to low power consumption.
Short lead times on custom quotes and product delivery.
Lumitek has the flexibility to handle small and large order quantities.
Complete systems approach; LUMITEK can provide the necessary power supplies  for EL lamps.
Highest level of quality control; LUMITEK tests every lamp individually to secure the required performance and conformance.
---

Operating Principle
Electroluminescent lamps are devices which convert electrical energy into light or luminescence; the term luminescence is generally associated with solids that generate light. In the case of electroluminescence, an electric field (voltage) is applied to a thin phosphor layer to produce light. The typical lamp consists of light emitting phosphor sandwiched between two conductive electrodes (one of the electrodes is optically clear to allow light to escape). As an AC voltage is applied to the electrodes, the electric field causes the phosphor to rapidly charge and discharge, resulting in the emission of light during each cycle. Since the size and number of light pulses depends on the magnitude of applied voltage and frequency, the brightness of EL lamps can generally be controlled by varying the operating voltage and frequency.
Voltage and Frequency
The nominal voltage and frequency for EL lamps are 115 Volts and 400 Hertz (Hz). These values originated from the initial aircraft use of EL lamps and represent the standard voltage and frequency in aircraft. However, EL lamp operation is not tied to these values and Lumitek lamps can be tailored for operation between 40 to 220 Volts (AC) and 50 to 5000 Hz. Varying the lamp voltage or frequency will change the lamp brightness and, to some extent, the color. For example, increasing the voltage increases lamp brightness, whereas increasing the frequency will increase lamp brightness and shift the color slightly toward blue. However, increasing voltage and frequency will reduce lamp life; our engineers can determine the optimum condition for your application.
Lamp Life
Unlike filament or fluorescent lamps, EL lamps do not catastrophically or abruptly fail. Instead the lamp brightness will gradually decrease over long periods of use. EL lamp life is affected by voltage, frequency, temperature, and humidity. Humidity is by far the strongest contributor to shortened lamp life unless special manufacturing processes are employed; Lumitek lamps are constructed so as to minimize the effects of humidity on lamp life. However, even in the absence of humidity, the phosphor itself will gradually lose its efficiency over time and the lamp brightness will gradually decrease. Unfortunately, quantifying lamp life is difficult because of variations in use, environment and operating conditions. Generally, lamp life can be defined in terms of the time it takes the lamp brightness to decrease to a percentage of its original value under well defined operating conditions. Lumitek specifies the half-life of its lamps (i.e., the time it takes for the brightness to decrease to one-half its original value) and the limiting life (the time it takes for the lamp brightness to decrease to 1% of its original value).
Lamp Brightness
The light output of a lamp can be measured in terms of radiometric or photometric quantities. Radiometric quantities measure the total light output power of the lamp, regardless of wavelength. However, the human eye does not sense all wavelengths. Therefore, EL lamp brightness, or luminance, is usually specified in terms of photometric units, which account for the eyes' sensitivity. Values of luminance are usually given in units of Foot-Lambert [FL] i.e. [lm/ft2], or [Apostilb] i.e. [lm/m2], or [Nit] i.e. Candela/m2 [Cd/m2], etc.
Lamp Color
Lamp color is usually specified in terms of CIE color coordinates or apparent color temperature. Variations in lamp colors can be obtained in one of four ways. First, the primary lamp color is determined by the phosphor type. Typical standard phosphor colors are blue, blue-green, and green. In certain cases, a color different from available primary phosphor colors is required. In such cases, the color can be obtained by blending multiple phosphors, adding fluorescent dyes to the phosphor layer, or by attaching a color filter to the lamp. Phosphor blending is the least desirable method since not all phosphor types have the same brightness, lifetime, and operating characteristic. Therefore, if multiple phosphor types are mixed, the color could be unstable and subject to change over time. In order to obtain stable colors different from standard phosphors, Lumitek employs either a dye addition to the phosphor layer or overlays a suitable color filter on the lamp. With the first process, the phosphor's layer primary color causes the dye to fluoresce at a different color. By careful selection of the dye and primary phosphor, the color of choice is obtained. The second method involves overlaying a suitable color filter on the lamp which sharpens the lamp color; this process is employed to obtain other colors such as NVG (night vision goggle) – compatible green. With these approaches, Lumitek can obtain a wide range of lamp colors meeting various lighting color requirements.EL Lamp Power Source
Since EL lamps generally require drive voltages and frequencies not available from batteries or AC line voltage, a conversion is needed to obtain optimum color and brightness. For battery operation, a DC-to-AC voltage frequency inverter is needed. In order to meet varying use requirements, Lumitek provides a wide range of inverter and converter packages for EL lamp operation from DC voltage (e.g., batteries) or AC line voltage; our engineers can determine the optimum configuration for your needs.
Weight and Thickness
One of the key design attractions of EL lamps is their low weight and thicknesses. The weight of a typical Lumitek EL lamp is a mere 0.1 grams.cm2 (.001 lb/in2) and the nominal thickness is 0.5 mm (0.020″). For certain specialized applications, the weight and thickness can be reduced by about 60%.
Minimum Bend Radius
Another benefit of EL lamps is that they are flexible. Typically, a bend radius of ~4 cm (1.5″) can be achieved. However, the bend should only be a single axis curve and thermal forming is not recommended.
Edge Seals / Bus Bars
A minimum protective edge seal of 1 mm (0.040″) can be guaranteed from the lamps' lit edge. However, small edge seals have a dramatic effect on unit cost and lamp life, therefore, a seal width of 2.0 mm (0.080″) is recommended. This is seldom a concern since Lumitek EL lamps have the advantage of no electrode setback for the use of bus bar networks on the front (light-emitting side). This maximizes edge seal specification flexibility, as well as providing a more pleasing lamp appearance.
Color Options
Lumitek Lamps are available in a wide range of standard single, mixed, and filtered colors; in addition to those listed below, Lumitek also offers custom colors to meet specific requests (our engineers can develop colors not listed below).
-Standard : Aviation Green, Blue-Green, and Blue.
-Dye Modified: White, High-Visibility Green (chartreuse).
-Filtered: NVG Green, or other colors (using color correction filters to meet customer needs).
Phosphor Type
Unless specified, Lumitek manufactures all lamps with long-life micro-encapsulated phosphor. For the specific phosphor type most suitable for your application, consult our sales staff.
Sizes
Lumitek manufactures lamps to each customer's specifications so typically there are no standard sizes. A tooling charge is normally applied to the first order and a drawing is required. Our engineering staff will work with you to develop any drawings if necessary. Consult our sales staff about configurations / sizes.
Cables / Connectors
All Lumitek Lamps can be provided with the following choice of cables and connectors:
-*Solder Pins
-*Ribbon Cable / Solder Pins
-*Ribbon Cable / Mate+Latch
-*Phosphor Bronze Foil
-*Ribbon Cable / Dupont Plug
-*Other connector type can also be specified (consult our sales staff)
Lamp Inverter / Converter Packages
DC Source Voltage Operation: Lumitek Lamps can be provided with a DC-to-AC inverter for battery powered applications. The inverters are offered as stand-alone components for customer installation, packaged for direct lamp hookup, or pre-wired to lamps.
Line Voltage Operation: Lumitek Lamps can be provided with AC/AC frequency converters. These can be provided as stand-alone components or pre-wired with AC line voltage plug for easy use.
Functions: Any of the inverter/converter packages can be provided with motion sequencing, blinking, or dimming functions for either DC or AC power sources.
All electronic drivers are manufactured to match specific lamp sizes and varying customer requirements. For specific needs, please consult our sales staff.
General
| | |
| --- | --- |
| Lamp type: | Flexible Thick Film AC |
| Cover Film: | PCTFE (Aclar®; a registered trademark of Allied Signal, Inc.) |
| Brightness Uniformity: | ± 15% (Typical; tighter tolerances possible upon request) |
| CIE Chromaticity (x,y): | ± .03 (Typical; tighter tolerances possible upon request) |
| Half Brightness Time: | 3,000 – 5,000 hours |
| Useful Life: | > 10,000 hours |
Electrical
| | |
| --- | --- |
| Nominal Lamp Operating Voltage: | 115 Volts AC |
| Nominal Lamp Operating Frequency: | 400 Hz |
| Max. Lamp Operating Voltage: | 140 Volts AC |
| Max. Operating Voltage Option: | 220 Volts AC * |
| Max. Lamp Operating Frequency: | 800 Hz |
| Max. Operating Frequency Option: | 5000 Hz* |
| Lamp Capacitance: | ~3 nF/in2 (@ 115 Volts, 400 Hz) |
| Current Draw: | ~0.9 mA/in2 (@ 115 Volts, 400 Hz) |
| DC Power Option: | DC /AC Custom Inverter |
| AC Power Option: | AC/AC Custom Converter |
* for Lamp operation above 140 Volts or 800 Hz, the exact operating conditions must be specified.
CIE Color Coordinates
| | | |
| --- | --- | --- |
| | x (±0.03) | y (±0.03) |
| Green | 0.180 | 0.430 |
| Blue-Green | 0.180 | 0.370 |
| Blue | 0.160 | 0.200 |
| Pink-White | 0.310 | 0.380 |
| Warm -Pink-White | 0.360 | 0.360 |
| HiVis | 0.200 | 0.600 |
| NVIS GREEN A | u'=0.088 | v'=0.543 | r=0.037 |
Other colors are also available.
Mechanical
| | |
| --- | --- |
| Max. Size (standard): | 10″ X 20″ (254 mm X 508 mm) |
| Min. Size: | 0.25″ X 0.25″ (6.3 mm X 6.3 mm) |
| Nominal Thickness: | 0.020″ (0.5 mm) |
| Min. Thickness Option: | 0.0075″ (0.2 mm) |
| Nominal Edge Seal: | 0.08″ (2 mm) |
| Min. Edge Seal Option: | 0.03″ (0.76 mm) |
| Bend Radius: | 1.5″ (38.1 mm) |
Environmental
| | |
| --- | --- |
| Operating Temperature: | -50°C to 65°C |
| Storage: | -50°C to 85°C; for prolonged storage, lamps should be stored in a sealed bag with a desiccant pack |
| Chemical Resistance: | The Aclar® cover film resists a wide range of industrial chemicals and solvents (your sales engineer can provide a list of specific chemicals); if lamps are specified with exposed leads, they should not come in contact with corrosive materials. |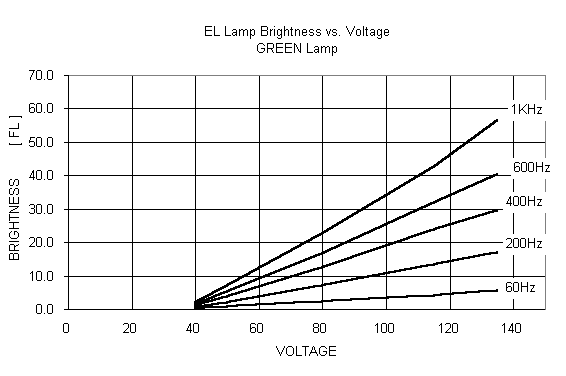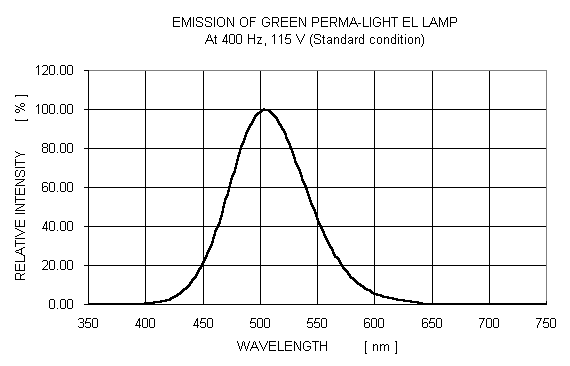 EL Lighting Applications
Aircraft Lighting for Commercial and Military Helicopters and Airplanes Including Night Vision (NVIS) Requirements
Aircraft Signs, Indicators & Emergency and other Lighting
Architectural Sign & Border Illumination
Architectural Emergency Lighting
Advertising Displays – Portable or Stationary
Automotive or Truck Trim Lighting
Calculator Keypad Illumination
Clothing, Head or Footwear Lighting
Computer Laptop Display Backllighting
Computer Peripheral Dispaly Backlighting
Control Panel Backlighting
Costume Lighting – Video, Film, Theatre & Theme Parks
Cycle Trim & Safety Lighting
Inset Illuminated Floors, Walls, or Ceilings
Instrument & Gauge Backlighting
Keypad & Keyboard Lighting
LCD Display Backlighting
Life Safety / Rescue Apparel & Accessories
Lighting Table Backlighting
Machine Control & Vision
Military Signs, Indicators & Emergency Lighting
Military Vehicle Instrument Panels
Night Lights
Photographic Transparency Backlighting
Portable Table Lights
P.O.P. Lighting
Prop Lighting – Video, Theatre, and Film
Safety Apparel and Accessories
Special Effects Lighting – Video, Theatre, and Film
Theme Park Lighting
Various Art Illumination
LUMITEK makes lamps to order and usually we do not carry any stock items. We supply samples by order and do sell a KIT which comes with a 4″ x 5″ lamp and a power supply/inverter assembly.
All orders normally require a lamp drawing which will go through an approval process by LUMITEK and the Customer prior to being manufactured.
For pricing and information contact:
Lorie Shenego
Phone: 1-301-831-1001
or in continental US:
1-866-LUMITEK  (1-866-586-4835)
Fax: 1-301-831-8221
Shipping Information
We ship products via UPS or as specified by the customer.
We accept Mastercard /Visa / American Express or Purchase Orders with approved credit.
LUMITEK International, Inc.
9639 Dr. Perry Road, Suite 210
Ijamsville, MD 21754
FOR SHIPPING TO AREAS OUTSIDE THE CONTINENTAL USA–CONTACT US.